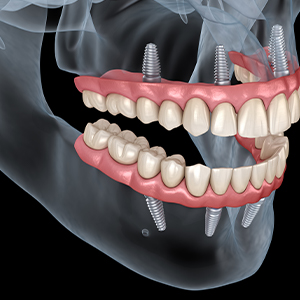 For many years now, dentures are the go-to solution for people who are suffering from tooth loss. However, despite the second chance it offers, many wearers complain of discomfort and irritations over time. Instead of helping them eat, speak, and feel confident, the oral appliance makes them more self-conscious and uncomfortable. Fortunately, with the help of our All-on-4 offer in Steele Dental Specialties, there is now a more favorable approach to dentures. To know more about this particular service, we have answered some of the most common questions about it. Read on!
What is All-on-4?
It is a type of restoration procedure used to replace an entire dental arch with a denture that is attached to the dental implants.
How is All-on-4 different from traditional implants?
Instead of using the usual six to eight dental implant posts, All-on-4 utilizes four strategically placed posts to hold an entire arch. Two of the implants are inserted at a severe angle to make sure that it comes into contact with the bone for natural support. Another reason that sets it apart is patients with low bone mass no longer have to undergo a bone grafting procedure beforehand.
What factors set it apart from other restoration options?
All-on-4…
Does not need denture adhesive to stay in place
Helps restore a patient's facial feature
Prevents the bone from deteriorating
Feels more comfortable to wear since it does not press down the gums when used
Can be cleaned and maintained like natural teeth
Allows patients to enjoy the taste of food
No restrictions to hot or cold substances
Improves the patient's bite force for up to 70% for them to eat whatever they like
Will the restoration look natural?
Patients don't need to worry about their All-on-4 restoration since it will definitely look and function naturally, to the extent that it is similar to the original teeth.
Who are good candidates for the procedure?
Those who are currently wearing dentures, planning on getting one soon and patients who need a large number of teeth replaced (even for both arches). Before pushing through with the procedure, the dentist will first review the condition of their overall health to reduce the risk of post-surgical complications.
How to care for the All-on-4 restoration?
Like any other implant restorations, patients wearing All-on-4 can practice their regular oral hygiene habits just like they do with real teeth. However, aside from brushing and professional cleanings, it is also best to pay close attention to the implant "roots" for the restoration to stay in great shape.
For patients who need an entire arch restoration but are suffering from bone loss, The All-On-4™ Procedure in Coppell, TX may be the ideal solution. Book a consultation with us at Steele Dental Specialties!