Implant Dentures — Coppell, TX
Strong & Beautiful Full Smile Replacements
Are you one of the millions of Americans who have no natural teeth left? While traditional removable dentures are a common way to restore your smile, they leave a lot to be desired. Whether it's difficulty chewing, a shifting smile when you speak, or just general discomfort, traditional dentures come with a variety of disadvantages. Thankfully, they're not your only option anymore! At Steele Dental, we're proud to offer strong and beautiful full smile replacements that are the next best thing to natural teeth. Implant dentures in Coppell offer the strongest, most lifelike full smile replacement available thanks to state-of-the-art dental implants . Contact Dr. Steele today to schedule your consultation and discover if they're right for you! In the meantime, keep reading to learn more.
What Are Implant Dentures?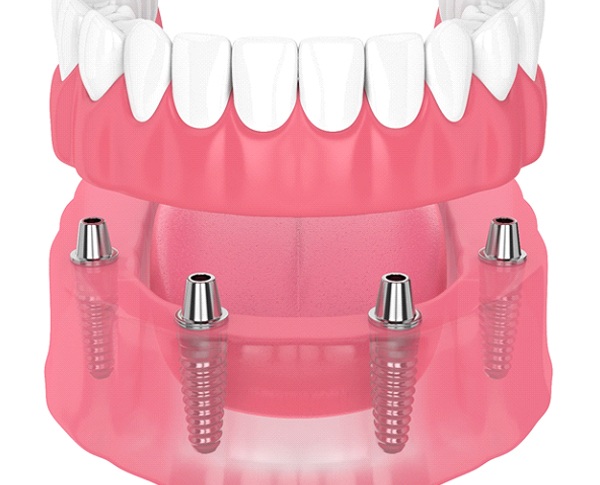 An implant denture is similar to a traditional denture except it's specially customized to work with dental implants. While traditional implant dentures are held in place with metal clasps, natural suction, or adhesives, implant dentures are anchored into the jawbone just like natural teeth! This unique placement provides results that look, feel, and function seamlessly. Your denture will never slip or click while you speak, you'll be able to eat all your favorite foods, and you'll enjoy a healthier mouth. You may even forget they're not your natural pearly whites! It's no wonder why implant dentures are quickly replacing traditional removable dentures as the most popular way to replace a full smile.
Implant dentures can be paired with three to six dental implants. By examining your oral health and your current denture, we can determine the exact number of implants needed to make your new smile secure and reliable. We will also see if you need a new denture fabricated to work with implants or if your current denture can be retrofitted to them. As a bonus, implant dentures can be designed to be fixed or removeable, depending on your specific needs and preferences. We will review the following options during your initial consultation:
Fixed/Permanent Implant Dentures
Fixed implant dentures are designed to stay firmly in place and can only be removed by a trained dentist. This means your denture will stay in your mouth while you eat, brush, sleep, and go about your daily life! Patients with fixed implant dentures enjoy the day-to-day simplicity of their new smiles, as they act just like natural teeth in every way. Usually, we can strategically place 4 to 6 dental implants in the jaw to support a permanent full denture. While you will need more jawbone density for a permanent implant denture than a removable one, you essentially won't need to worry about your new pearly whites once they've been fixed in place.
Removable Implant Dentures
Removable implant dentures are sometimes called "Snap-On dentures". Like fixed/permanent implant dentures, removable implant dentures utilize several implants that are firmly rooted in the jawbone. However, they are removable because they have clips or ball sockets that allow you to take them out and put them back in when you'd like. Removable implant dentures typically require less jawbone density than their fixed counterparts because they often only need three to five dental implants. Removable dentures will need to be removed daily for cleaning in a similar way to traditional dentures. They're a popular option that allows patients to enjoy a reliably stable smile and all the other benefits of dental implants with a minimal amount of oral surgery.
The Implant Denture Procedure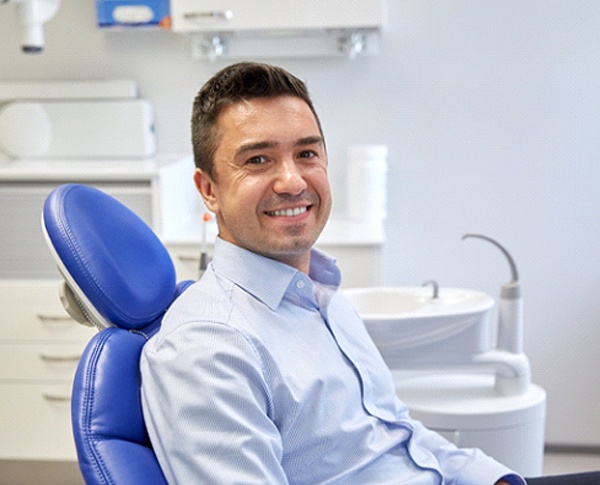 After your initial consultation, you'll come into our office, where Dr. Steele, our skilled implant dentist in Coppell, will surgically place your implants. He is one of the only dentists in the DFW area who uses robot-assisted implant technology. Next, we will allow your implants to heal for at least 3 to 4 months. Then, Dr. Steele will create your custom-made denture after taking impressions of your mouth with your new dental implants. Lastly, he will place your restoration, allowing you to enjoy a beautiful, complete, and fortified set of teeth that are supported by implants.
Am I a Candidate for Implant Dentures?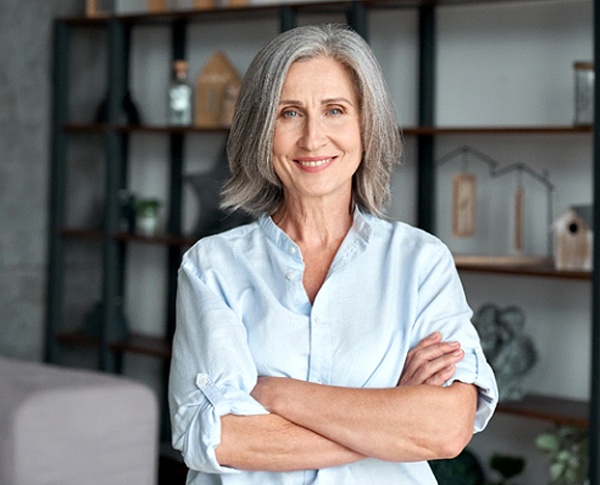 The only way to see whether implant dentures are right for you is to schedule a consultation with Dr. Steele. We will carefully examine your gums, your oral health, and the strength of your jawbone. After, we will be able to develop a personalized treatment plan that includes important information like time and cost estimates. Preexisting problems like gum disease will need to be treated prior to your surgery.
Benefits of Combining Dentures & Dental Implants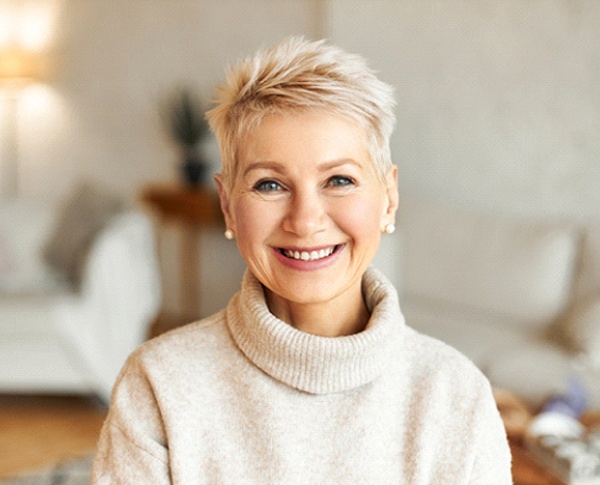 Implant dentures combine the best of dentures with implants to give you a wide range of benefits, including:
Implant dentures can be cared for similar to your natural teeth for ultimate convenience.
Dental implants stimulate the jawbone to prevent it from deteriorating after tooth loss, keeping your face looking youthful.
Implant dentures are securely rooted in the jaw, allowing you to eat virtually anything you want.
Dental implants themselves can last for over 3 decades or even the rest of your life with proper care, making implant dentures incredibly cost-effective.