Bone Grafting / Augmentation – Coppell, TX
Creating a Strong Foundation
Before getting dental implants, it is important that the patient has a jawbone that is strong and dense enough to support the replacement tooth. However, after years of tooth loss, the jawbone begins to shrink. If the jawbone isn't strong enough, the implants could fail to bond or stay anchored in place. Fortunately, if you don't currently have sufficient jawbone, this doesn't immediately disqualify you from getting dental implants. Bone grafting can help by creating a strong foundation for your replacement teeth!
Why Choose Steele Dental for Bone Grafting / Augmentation?
Dental Sedation for Comfort
Financing Options Available
Experienced Oral Surgeon
What Is Bone Augmentation?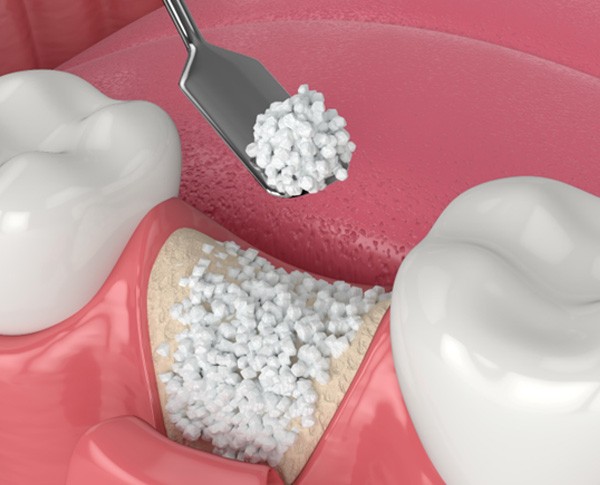 A bone augmentation, also referred to as "bone grafting," involves putting extra bone material onto the existing jaw structure. Over time, the new bone bonds with your jaw, allowing it to become stronger and larger so that it can successfully integrate and support dental implants.
There are a few different types of bone grafting. In some cases, a small bit of bone from another part of the patient's body is used to fortify the jawbone. However, in other cases, donor bone or artificial material is used.
Why Might I Need Bone Augmentation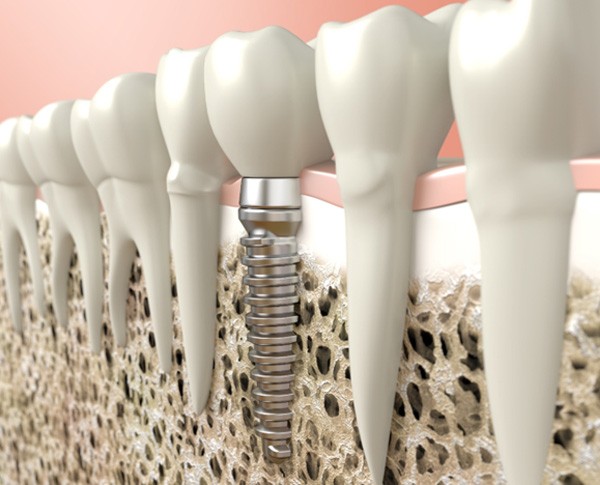 There are a few different reasons why you may need bone grafting before getting dental implants. Here are the most common:
Bone Resorption: Bone resorption can occur with tooth loss. When the natural teeth are missing, they no longer stimulate the jawbone and keep it strong. With enough loss of mass, your bone won't be able to support implants.
Gum Disease: Gum disease affects more than just your gums. It can also attack the underlying bone structure, causing the jaw to shrink and weaken.
Structural Issues: Some people's jawbones are naturally not able to provide support for implants. This calls for bone augmentation.
What Can I Expect from Bone Augmentation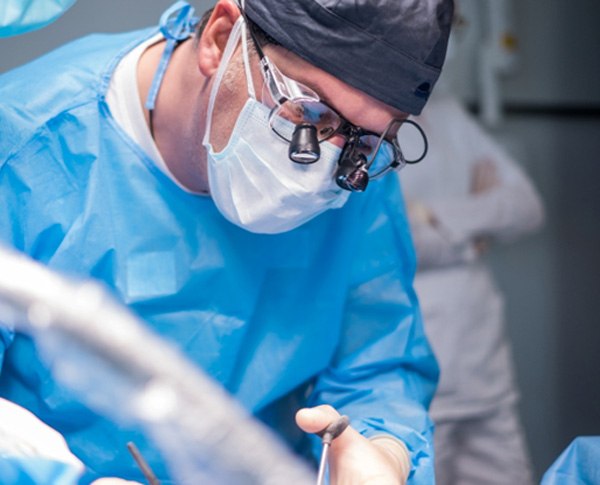 During your initial dental implant consultation, Dr. Steele will examine your smile to see if you are a good candidate for the procedure. This is when he will determine whether bone grafting is necessary for successful dental implant surgery. At this time, he will go over the specifics of your bone grafting surgery, including how you should prepare, what the surgery will look like, and the financial aspects of your procedure. If you have any questions, this is the perfect time to ask and become informed.
Bone Grafting FAQs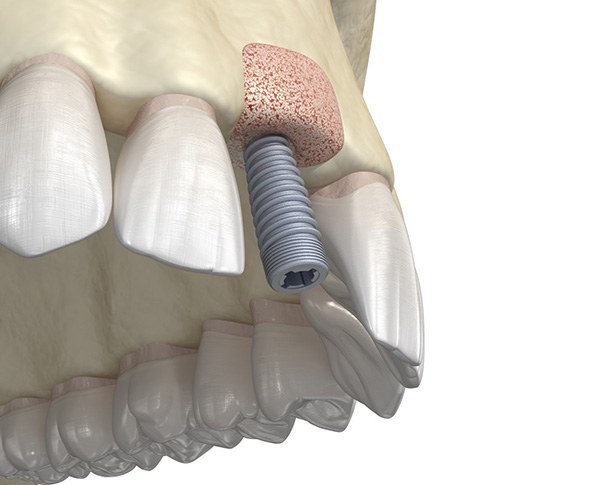 Dr. Steele and our team are eager to help you rebuild a strong and healthy smile. To that end, we might have to perform a bone graft. We understand that the prospect of undergoing this surgery can seem a little intimidating, but if you gather as much information about it as possible, you will be able to make a well-informed decision about how to move forward. To assist you in your quest to learn about bone grafting, we have put together a convenient list of FAQs about the topic. If your specific questions are not addressed here, please reach out to us directly.
What Are the Different Types of Bone Grafts?
There are a few different types of bone grafts, including:
Socket preservation. This procedure is performed right after a tooth extraction and helps to keep the area strong enough to support a dental implant.
Sinus lift. A sinus lift enlarges a portion of the upper jaw so a dental implant will not penetrate the sinus membrane.
Ridge augmentation. Ridge augmentation widens the part of the jawbone where dental implants are normally placed.
Periodontal bone graft. This procedure helps to stabilize teeth that have become loose due to gum disease.
How Soon after a Bone Graft Can I Get a Dental Implant?
In some cases, a dental implant can be placed during the same appointment as a bone graft. Most of the time, though, a healing period of four months or so is necessary. This wait time allows your body to fully integrate the grafted material so your implant will have the strong base of support that it needs to thrive.
Does It Hurt to Get a Bone Graft?
Thanks to local anesthesia and sedation, you can expect to be very comfortable during your procedure. In fact, you might not feel anything at all.
After the anesthesia and sedation wear off, you may experience some soreness, swelling, and general discomfort. Our team will provide detailed instructions that will help you to enjoy a smooth and problem-free recovery. For example, you should get plenty of rest and take medications as prescribed. For most patients, their pain subsides significantly within a week or so of their appointment.
What if My Body Rejects the Bone Graft?
A dental bone graft does not involve the placement of any living or genetically coded material. Therefore, it is virtually impossible that your body will reject it. The biggest concern is that, in some cases, a patient's body does not form enough new bone after a graft is placed. If that happens to you, you may need additional grafting when your dental implant is placed.