All-on-4 Dental Implants – Coppell, TX
Four Implants for an Entire Row of Teeth
When dental implants were first introduced, they were installed on a one-to-one basis, meaning one implant was used for each tooth. Advancements over the years have made it possible to support multiple teeth with fewer implant posts, and now we can support an entire arch with just four implants located in key parts of your jaw! To set up a consultation with Dr. Steele and discuss whether All-on-4 dental implants from our Coppell, TX oral surgeon are the best solutions in your case, call our oral surgery office today.
Why Choose Steele Dental for All-on-4 Dental Implants?
Robot-Assisted Implant Surgery
Complimentary Evaluations and X-rays
Team That Helps You Feel Comfortable
How Does All-on-4 Work?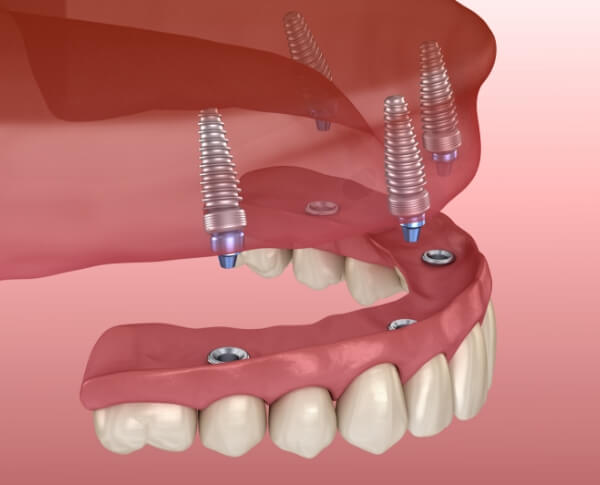 When placing the four dental implants that will be used to secure your dentures, we will strategically place them in locations where bone density is the highest. For the two implant posts near the back of the mouth, this means angling them so that they join with the bone tissue near the front of your jaw. This gives the implants sufficient stability to support a full denture, and it cuts down the need to have bone grafts performed.
Am I a Candidate for All-on-4?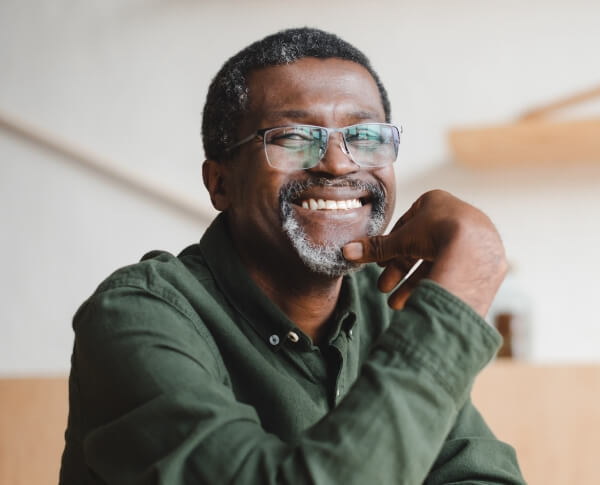 The All-on-4 procedure is for those who have lost most or all of their teeth and are planning to get implant dentures as a result. Because the treatment makes use of the areas of the mouth where bone density is the highest, it can often be performed even when you've already experienced bone loss. Oral health is still a factor to be considered, though; the gums need to be free of infection, and your body needs to be able to heal properly after surgery.
Benefits of All-on-4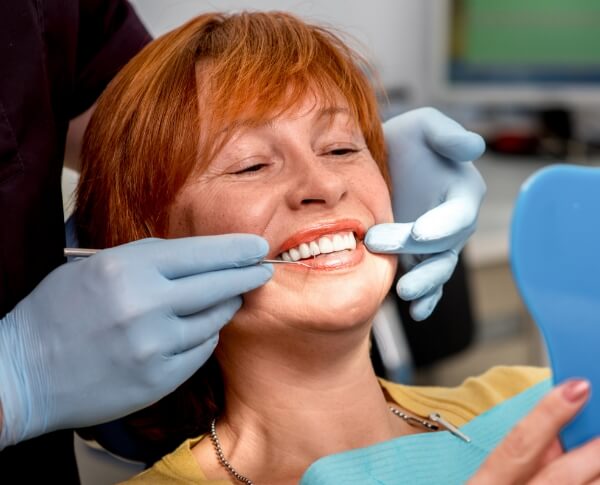 With All-on-4, you can enjoy all the benefits that dental implants have to offer. This includes:
Improved stability for your dentures, which won't slip at awkward times
Additional bite strength that makes it easier to chew all kinds of foods
Improved oral health thanks to the implant posts working to prevent further bone loss
An easier oral hygiene routine that doesn't require any special products beyond what you would use to take care of natural teeth
Long-lasting implant posts that can stay in the mouth for a lifetime
All-on-4 vs Traditional Dental Implants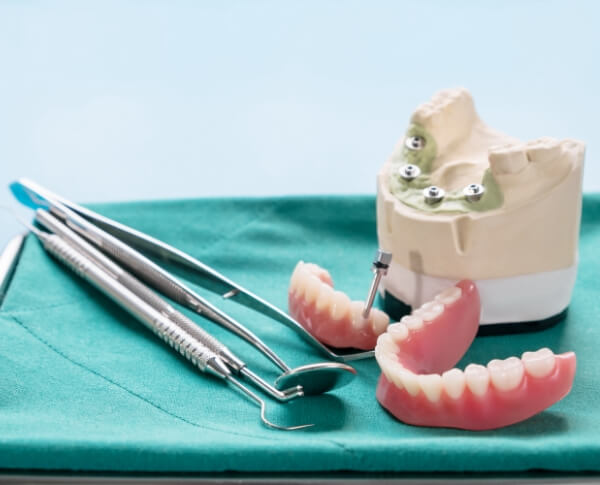 When placed the traditional way, it can take about 6 or 8 dental implant posts to give dentures enough support. All-on-4 does the same job with just 4 posts. As noted above, the procedure also makes it less likely that you will need a bone graft as a consequence of bone loss. And while it's not always the case, sometimes you can have a temporary denture placed on the same day as your implant surgery.