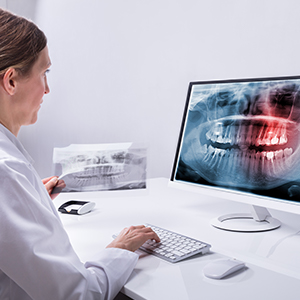 The practice of dentistry is unimaginable without a digital x-ray. Digital x-rays allow dentists and other dental professionals to diagnose and treat problems that can be hardly seen by the naked eye. These dental problems may include gum disease, abscesses, abnormal growths, and early tooth decay. Since dental problems may occur underneath the gum line, dentists won't have to make an incision in the gums to see what's happening in the roots of the teeth or the jawbone. This tool does not only saved countless of teeth but also is safer and more beneficial.
Digital x-ray uses a small electronic sensor that is placed in the patient's mouth to capture an image of the teeth. Digital x-rays are connected to a computer; that is why the image can be projected immediately on the screen for the dentist to view.
Why is it necessary?
Digital x-rays are a preventative and diagnostic tool. It is essential in revealing important information about the teeth and gums that is not visible to the naked eye. It also allows the dentist to see what is going on between the teeth and underneath the gum. This information is used to safely and accurately detect dental irregularities and create an appropriate treatment plan. Aside from these things, it can also reveal the following:
Abscesses or cysts
Poor tooth and root positions
Bone loss
Problems within the tooth or underneath the gum line
Decay between the teeth
Abnormal growths
Cancerous and non-cancerous tumors
Are there any safety precautions?
Although digital x-rays emit low-level radiation and are very safe necessary precautions should be observed to limit the patient's exposure to radiation. These necessary precautions include only taking those x-rays that are necessary and wearing a lead apron to protect the body from radiation.
What are the advantages of digital x-rays?
Aside from the fact that digital x-rays emit low-level radiation, it also offers several advantages to both patients and dentists. These advantages may include:
No chemical processing and image can be seen quickly. Since digital x-rays do not use film, unlike conventional dental x-rays, there is no need to wait for the image to develop and no toxic chemicals to dispose of. The image can be seen right away on a computer screen for easy viewing.
A clearer image. Getting more information is made possible with digital x-rays because it is sharper and can be enhanced in many ways. The image's contrast can be increased or decreased, and specific areas can be magnified.
Easy sharing and storage. Digital x-rays provide a better image that allows the patient to understand the dentist's diagnosis and treatment options. It can also be e-mailed to the patient wherever they are and are less likely to be misplaced.
For more information about Dental Digital X-ray in Coppell, TX, be sure to contact Steele Dental Specialties today. Our entire team looks forward to meeting you in person and helping you achieve the best possible dental health results. Call and visit us at 225 E. State Hwy. 121, #150, Coppell, TX 75019 to get started on your new smile!